In S.P. "Nestrėvaitis" warehouse You can always purchase properly packaged and ready to be transported fir or pinewood floor planks.
All kinds of wood for construction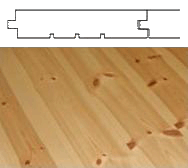 We will cut out our production exactly by Your measurements, regardless of 
what
dimensions you need. We have our standards, but the client needs are above all! Sawn wood, depending on
the
nature of the use, is 
available in various
different
lengths. We suggest you choose the most suitable for You! It really saves Your time and MONEY!
Wooden floors in the interior are used very often due to their advantages. Wood is a natural material, therefore it creates not only esthetic look, but also gives the warmth to the house, balances internal humidity, are less noisy compared to ceramic floor tiles. Wood also provides good isolation. Floor planks can be painted, but most are left to their natural color. Planks are reinforces with wood stain, covered with a protective layer of polish or floor primer.
Most popular sizes of floor planks in our range of products:
| # | Type of wood | ross-section mm |
| --- | --- | --- |
| 1 | Fir/Pine | 15×121 / 28×121 / 28×147 / 35×113 / 40×220 / 40×225 |
If required by client we can saw by other measurements.
High quality floor planks and other sawn wood products can be delivered anywhere in Lithuania. We deliver our products and unload them at the address given: in your yard, construction site, or any location which is convenient for You. In one run when can transport from 1m3 to 40 m3 dried, freshly cut or impregnated by deep vacuum wood.
Production delivery by company transport costs extra, depending on distance traveled and amount of production ordered.
Floor planks – How to choose?
Thinner (15-25mm) floor planks can be glued directly on to the concrete as parquet or use joists/sills and basis on them. Before flooring thoroughly prepare basis, so it is clean and flat. If concrete floor is uneven consider using flattening mix or special fiber which smoothes the bumps (when the floor is very uneven up to 18mm thick fiber is used). It is very important to protect the wooden floor from dampness. Dampness penetration from concrete is reduced by stretching polyethylene sheet. Plywood panel is attach onto the polyethylene sheet with concrete screws and only then floor planks are attached. First plank is placed fillister side facing into the wall (notch facing into the center of the room), leaving about 10 mm gap from the wall for wood expansion. If you will be using glue spread a pretty small area so the glue would not dry. When the planks are laid they have to be firmly tightened with belts, so they stand in their place to avoid gaps. Thicker floor planks are mounted on the joists/sills.
When ordering wood make sure that quantity You are ordering is sufficient. It is likely that additional planks will be from different batch and can have a different look. It is advised to order few squares more than needed, taking into account generated waste. It is also very important to let the wooden floor planks acclimatize with the humidity level of the room. Let them acclimatize for at least 10 days. To preserve the stability of wooden floor it is recommended to maintain  45-50% relative humidity in your house all year-round.
Wood production and impregnation
Planks
You can always purchase properly packaged and ready to be transported fir or pinewood planks: Single cut planks. Double cut planks. Interior paneling planks. Exterior paneling planks. Floor planks. Terrace planks
Balk
We will cut out our production exactly by Your measurements, regardless of what dimensions you need.
Timber for roofs
Roof – one of the most important structural and architectural part of the building. Its main purpose – to protect the structure from atmospheric precipitation, sun, changes in the temperature, wind and noise.
Message Us
Get In touch below. Ask Any Question or Start a Free Quote
Office Location
Aukštadvario g. 7, Trakai.
Open Hours
Man. - Fri.: 08.00 - 17.00