Significant part of company's production is double cut planks, planks for decoration. Double cut planks, used in construction are main S.P. "Nestrėvaitis" production. Their use in construction is very wide. Most commonly classified according to their purpose.
All kinds of wood for construction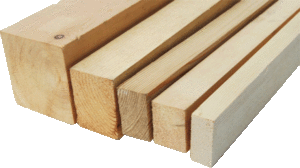 Freshly cut wood is dried, un-calibrated and chemically unprocessed timber production
Calibrated planks – double cut planks, processed in four-sided planing machine. These planks have especially accurate cross-section measurements. This procedure is performed for production which needs higher-precision like tapping planks, planks for fences, decoration planks and other similar production.
Dried planks – planks which are dried in our dryers for up to 18-20% humidity. These planks are mostly used for roof constructions, also blanks for paneling planks, tapping planks, terrace planks and planks for fences are necessarily dried.
Planing planks – dried planks can be planed, to obtain smooth, precise and satin surface. Planks processed like this are often used for decoration, or only their visible from outside parts are processed like this.
Impregnated planks by deep vacuum method can remain unchanged for at least 15 years, even in constant contact with the ground and running water. Deep vacuum impregnation is widely used for: fence elements, bridges, terraces, roof constructions. It is the best way to prolong the longevity of wood. Impregnator penetrates deep into soft, vulnerable wood tissues and protects them from external impact.
Double cut planks
High quality double cut planks and other sawn wood products can be delivered anywhere in Lithuania. We deliver our products and unload them at the address given: in your yard, construction site, or any location which is convenient for You. In one run when can transport from 1m3 to 40 m3 dried, freshly cut or impregnated by deep vacuum wood.
Most popular sizes of double cut planks in our range of products:
| | |
| --- | --- |
| Width: | 25×25 / 50×50 / 75×75 / 100×100 мм |
| Length: | 1.0 / 2.5 / 3.0 / 5.0 / 6.0 м |
If required by client we can saw by other measurements.
Production delivery by company transport costs extra, depending on distance traveled and amount of production ordered.
Wood production and impregnation
Planks
You can always purchase properly packaged and ready to be transported fir or pinewood planks: Single cut planks. Double cut planks. Interior paneling planks. Exterior paneling planks. Floor planks. Terrace planks
Balk
We will cut out our production exactly by Your measurements, regardless of what dimensions you need.
Timber for roofs
Roof – one of the most important structural and architectural part of the building. Its main purpose – to protect the structure from atmospheric precipitation, sun, changes in the temperature, wind and noise.
Message Us
Get In touch below. Ask Any Question or Start a Free Quote
Office Location
Aukštadvario g. 7, Trakai.
Open Hours
Man. - Fri.: 08.00 - 17.00